We're kicking off 2023 in style with news of a brand-new development – Analyser templates. Here's a quick rundown of what we've built and why.
What are templates?
Our suite of templates acts as a jumping-off point for due diligence and suitability. We're launching templates for platform selection just now, with templates for MPS ranges to follow later.
In our chats with Analyser users and through one-to-one demos, we've learnt that a lot of the time firms often don't know where to start on due diligence. There are hundreds of data points available to navigate within Analyser, and in our experience some firms appreciate a steer on what to include.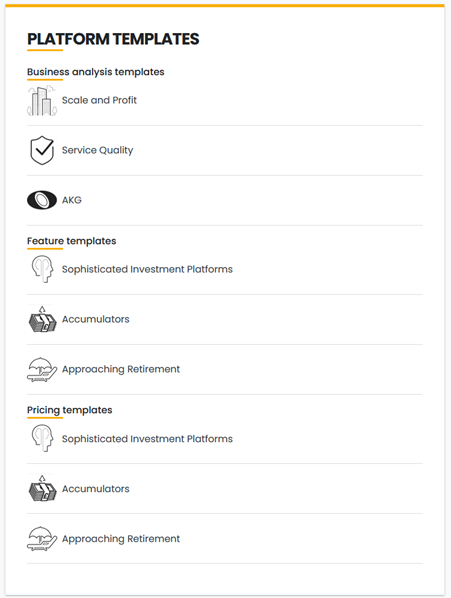 Templates is our answer to that. Purpose built to give you a head start on due diligence, our suite of templates are pre-populated with the selected features and data points we at the lang cat would focus on if we were carrying out a due diligence exercise or review. Basically, the questions we'd want answers to if we were in your shoes.
With templates, you don't have to start due diligence from scratch every time. They have been designed with particular business analysis questions, features, and client segments or client types in mind. The templates can then be customised to your own business and client needs. You can also run more than one template at a time.
What do the templates cover?
We're launching with the following templates:
Scale and profit
Service quality
AKG (financial strength ratings)
Sophisticated investment platforms (for alternative investments and greater trading capability)
Accumulators
Approaching retirement
This is just the beginning – we have more templates in the pipeline. For example, we will have your back on Consumer Duty with a comprehensive template later this year. If you have an idea for a template you'd like to see, just let us know at [email protected].
Anything else I should know?
Built into the templates is the lang cat approach to due diligence but also the adviser 'hive mind', so it includes our knowledge of the features and data points most chosen by fellow Analyser users.
You can add templates to new and existing reports at each stage of the due diligence builder, as shown below: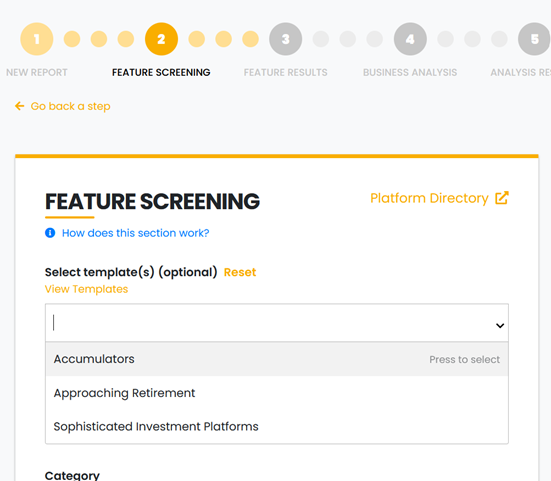 And if you want to see the underlying data points that have gone into each template, click 'view templates' as shown above. You can also find the breakdown of each template in our insights and help section, under templates: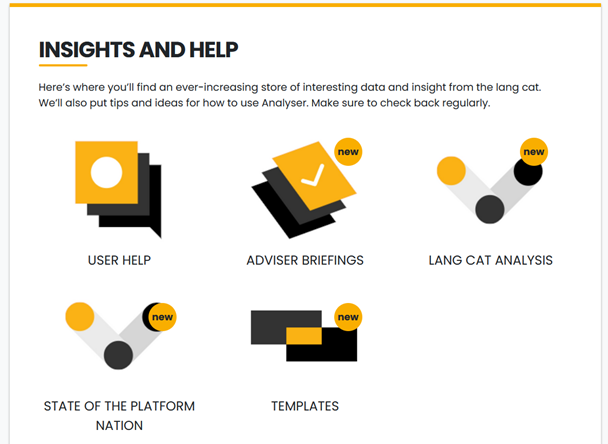 Want to find out more?
Catch up on the demo below.
We know due diligence and suitability can be time-consuming – when there's so much data, it can be hard to know where to start. The idea is templates will give you something to work off, and save you time in the important business of carrying out thorough due diligence.
Hope you find them useful.